About Tracie Armand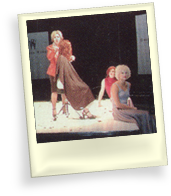 Hair cutting came to me naturally. As a kid I watched my dad and uncle barbering each other on the back porch and my mom and her best friend "frosting" each others hair in the kitchen. After experiencing enough trauma from home perms and taped down bang trims, it was no big deal for me pick up a pair of scissors and cut my own hair.
By age fifteen, I had begun to cut my mother and my brother's hair as well as each of our best friends. When I got to beauty college I was experienced and confident. Many, or rather most of my classmates were terrified of cutting hair. After graduation, I spent seven passionate years perfecting my art at a Texas salon.
Trends are ever changing and I keep a watchful eye. At the end of the day, I believe everything is rooted in the heart and it is from there that I create.

Tracie Armand
Later, an Atlanta salon grabbed my attention where working with CNN personalities added some dimension. In addition to my day-to-day salon activities I also moonlighted as a technical educator with Graham Webb International. Graham Webb is a London based educational institution and professional salon product manufacturer. After a couple of years I returned to Texas to become an Education Manager, managing the Southern U.S. Region. Eventually, I was made a Creative Director and taught at the American Academies. My job included performing at trade shows as a platform artist...fun! When Graham Webb was sold, I became an Education Manager for the Italian hair color company Framesi International. After nearly 6 years on the road, I decided it was time to come home, and this is where you'll find me, doing the thing I love in my Houston Heights hair studio. Life is Good!
I feel so blessed to have a gift that allows me to both create and relate. I get to do the art that I love and make a difference one head at a time.